Natabori Carving
by Enku (+1632 - 1695)
H = 178.5 cm
Edo Period, 1689
Ohira Kannondo, Shiga

EDO-ERA
CHRONOLOGY
Edo Period


江戸時代

+1615-1868

Tokugawa Period


徳川時代

+1615-1868

Kan'ei Bunka Era


寛永文化

+1615-1651

Kanbun Era


寛文

+1661-1673

Genroku Bunka Era


元禄文化

+1688-1715

Kyōhō Era


享保

+1716-1736

Kansei Era


寛政

+ 1789-1801

Kasei Bunka Era


化政文化

+1804-1830

Bakumatsu Era


幕末

+1800-1867

HISTORICAL SETTING.
The new shōgun, Tokugawa Ieyasu 徳川家康 (+1542-1616), gains complete hegemony in Japan with his victory over the Toyotomi 豊臣 family in +1615, and thereafter Japan enjoys over 250 years of peace and prosperity under the leadership of 15 generations of Tokugawa shōguns 将軍 (military rulers). The military capital was established in Edo 江戸 (modern-day Tokyo), and secular arts of all kinds flourished among the growing merchant classes, military clans, and the wealthy. The importance of secular art has forever thereafter surpassed that of religious art. Buddhist sculpture continued in a downward spiral, and the influence of institutionalized Buddhism plummeted, for it could no longer compete against the Neo-Confucian policies (imported from China) favored by the Tokugawa shōguns.

Indeed, most modern scholars consider Neo-Confucianism to be the keynote philosophy of Tokugawa Japan. It brought renewed attention to man and secular society, to social responsibility in secular contexts, and it broke free from the moral supremacy of the Buddhist monasteries. It also provided a powerful philosophy for exercising national rule. Society was divided into four main groups -- samurai, peasants, artisans, and merchants -- with relations among them governed by strict hierarchical rules and the Confucian virtues of filial piety and loyalty. To further ensure control, the Tokugawa shogunate enforced a seclusion policy starting in the 1630s that banned Japanese from leaving the country, and allowed only the Chinese and Dutch to conduct trade, but only from the port city of Nagasaki in Kyushu.

To stop the spread of foreign religions, the Tokugawa shōgun in +1659 ordered all Japanese families to register with Buddhist parishes, forcing everyone to declare an affiliation -- this also helped the government count the population and control tax registers. Many Japanese Christians thereafter went into "hiding." To conceal their faith, they registered as Buddhist lay people, yet they secretly maintained their faith with clandestine codes and ingenious adaptations. For example, statues of the Virgin Mary (Mother of Jesus) were disguised as the Buddhist deity Kannon (Goddess of Mercy). These images, later called "Maria Kannon," were made or altered to look like Kannon, but they were not worshipped as Kannon by the "secret" Christians. Many, moreover, had a Christian cross or other icon hidden inside the statue's body.

Despite the declining fortunes of Japan's traditional Buddhist monasteries, the Edo period gave rise to a great surge in peasant interest in Buddhist talismans, rituals, pilgrimages, and superstitions. Many of these folk beliefs came under attack in the ensuing Meiji & Modern periods. The final nail in the Buddhist coffin, so to speak, was the elevation of Shinto to state religion in the modern era.

Minor Revivals in Buddhist Statuary
In the Edo period, two wandering (itinerant) monks of great modern fame revived a carving technique known as Natabori 鉈彫 (hatchet carvings, popular from last half of the 10th century to around the 12th century). They were the Buddhist priest Enku (Enkū) 円空 +1632-1695 and the Zen priest Mokujiki Myoman (Myōman) 木食明満 +1718-1810. Nearly all of their extant pieces were carved from a single block of wood and were not hollowed out. This gives their pieces a freshness that is completely different from the refined works of traditional Buddhist sculpture. In modern Japan, their extant statues are highly prized.

Natabori 鉈彫 = Hatchet carvings, popular from last half of the 10th century to around the 12th century; revived again in Edo period. Single-block carvings (ichiboku zukuri) are sometimes called natabori, but natabori statues are differentiated from ichiboku-zukuri carvings by the characteristic round chisel (nata 鉈) markings that are added to the statue's surface. Natabori statues are rough-cut (arabori 荒彫) or fine-cut (kozukuri 小造り), but they do not undergo final finishing (shiage 仕上げ). See Making Statues for more details on these terms.

Some Japanese claim that natabori are incomplete works because they lack final finishing, while others claim that natabori statues are a unique sculptural style. In the Edo Period, the wandering Buddhist priests Enku (Enkū) 円空 (1632-1695) and the Zen priest Mokujiki Myoman (Myōman) 木食明満 +1718-1810 revived the technique. Nearly all of Enku's pieces (allegedly 120,000 figures) were carved as single-block figures, including the pedestals, and were not hollowed out. Enku was not widely recognized during his lifetime, but has achieved great fame in modern-day Japan. He hailed from Mino 美濃 (modern Gifu prefecture). He was not affiliated with any temple or workshop, nor considered a professional maker of Buddhist images. Rather, he was a mountain ascetic and pilgrim who traveled about the eastern and northern parts of Japan carving statues in exchange for food and shelter.

NIHON-JI DAIBUTSU
Image of Yakushi Nyorai
Constructed in 1780s

The Big Buddha at Nihon-ji Temple in Chiba Prefecture is a representation of Yakushi Nyorai (the Medicine Buddha, the Buddha of Healing). This stone-cliff Buddha (magaibutsu) is 31.05 meters in height. It, plus 1,500 smaller statues in the area, were carved by master artisan Jingoro Eirei Ono and his 27 apprentices in the 1780s and 1790s. This Daibutsu of Yakushi Nyorai is twice the size of the Kamakura Daibutsu and Nara Daibutsu, making it the largest of pre-modern Japan's extant Big Buddha statues. The Nihon-ji Temple itself dates back to 725 AD.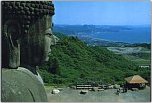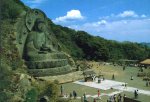 Above Three Photos by Photographer Goto Osami
Click any image above to see a larger photo.


At the same location, one can find carvings of 500 Rakan (Arhat) (a grouping known as the "Gohyaku Rakan" in Japan), as well as a gigantic stone carving of the Kannon Bosatsu called the "Hyaku Shaku Kannon." The Rakan images took 20 years to carve. The project, attributed to the 15th chief priest of Nihon-ji, also occurred during the latter half of the Edo Period. All of these carvings are located at Mt. Nokogiri-yama. The literal meaning of this mountain's name is "saw mountain," for its shape looks like the teeth of a saw.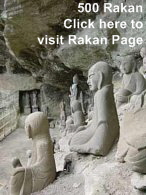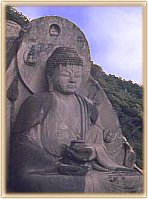 (L) 500 Arhats; (M) Kannon Bosatsu (R) Yakushi Nyorai
More Photos of Nihon-ji Daibutsu
-- www.town.kyonan.chiba.jp/nokogiriyama/nokogiriyama.htm
-- www.vt.sakura.ne.jp/~grgr56/goro/wtemple/wtem0p32.html
-- http://arruku.hp.infoseek.co.jp/01bousou/nokogiri.html

RESEARCH NOT YET INCORPORATED INTO SITE
Below Notes mostly from JAANUS Database http://www.aisf.or.jp/~jaanus/

LEARN MORE FROM GABI GREVE

RESOURCES



JAPANESE WEB SITES