Online since 1995, this site is widely referenced by universities, museums, galleries, art historians, Buddhist practitioners, students, and lay people from around the world. There are approximately 95,000 visitors each month (as of Nov. 2011). Thank you everyone.

The site's growing success as a research tool, however, means ever-increasing expenses to host and maintain the site. Costs have escalated and now surpass $1,200 per year. To help keep this site free for all, please consider sending a small donation of $5 or $10 or whatever you are willing to contribute. To send a donation using Paypal (you don't need to be a Paypal member), please click the below donation button. Paypal maintains both your privacy and security. Thank you in advance for your contribution. If yearly donations surpass the cost of running this site, I pledge to donate all surplus money to worthy charities. This is a promise.
Click "Make a Donation" button to get started.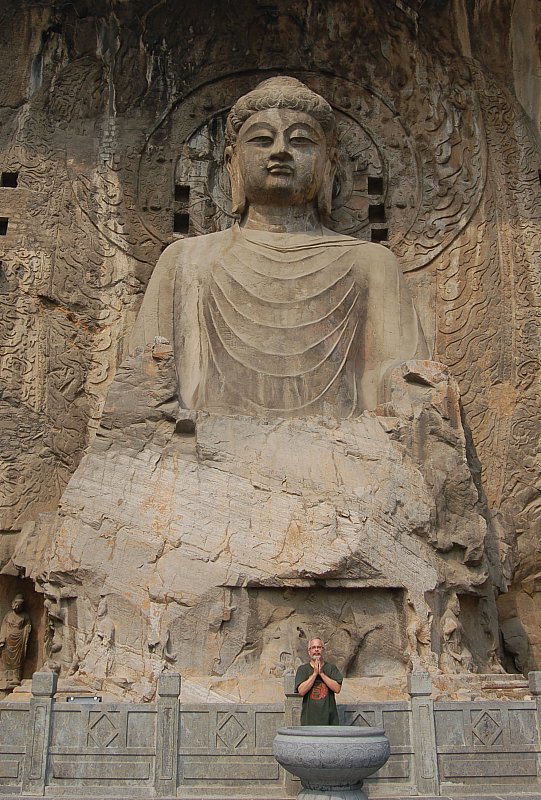 Site Author Mark Schumacher at Fengxian Temple, China (World Heritage Site)
See Photo Tour of the Longmen Caves Here (September 2008)

Fengxian Temple 奉先寺, Ancestor Worshipping Temple. Carving began in 672, completed circa 672-675 AD
Central Image = Vairocana Buddha (Jp. = Dainichi Nyorai), Seated atop lotus; 17 meters in height; limestone.
Commissioned by Empress Wu Zetian, and reportedly made to resemble her facial features.




Buy Quality Buddhist Statuary
Our Sister Store Offers 100+ Hand Carved Products