THIS IS A SIDE PAGE
Click Here to Return
to Main Kappa Page




KAPPA
River Imp or Sprite (Shinto)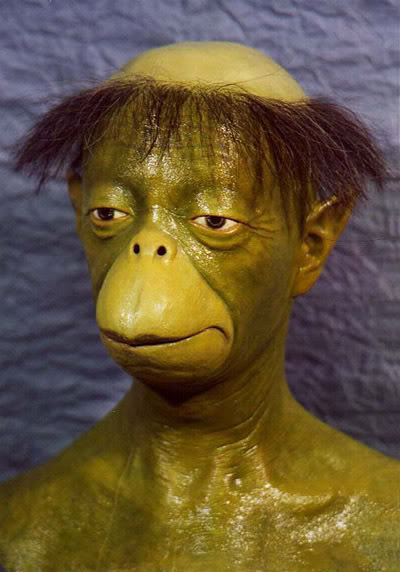 Kappa Makeup Effect by Kyoichi Shimazaki (aka Ghostman)
Photo courtesy: monsterama.blogspot.com/2007_10_01_archive.html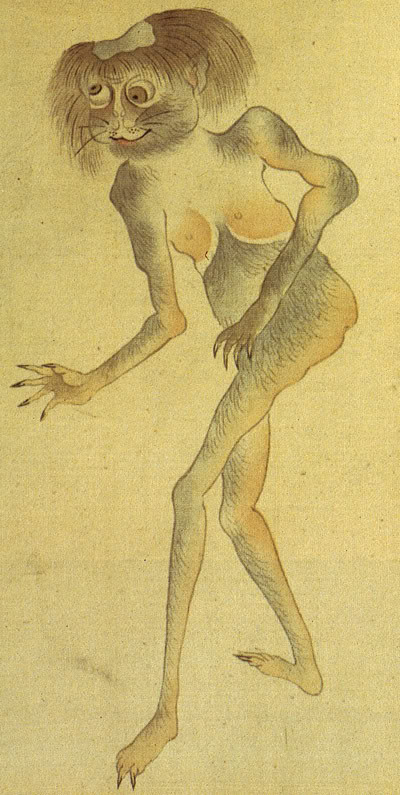 Kappa. Photo courtesy monsterama.blogspot.com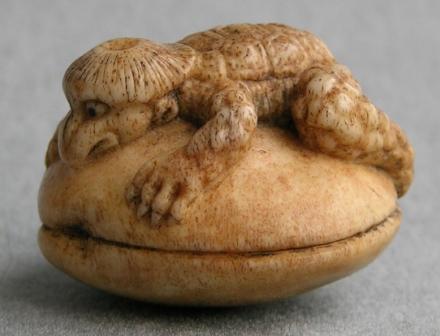 Kappa Netsuke by artist Ko Baas of Holland.
See the artist's Netsuke from Holland web site
For more netsuke, please see site of
Tiny Vissers, Netherlands



Kappa, Ganshin-ji Temple, Ceiling Painting
Temple located in Kita Arima City, Nagasaki Prefecture.
Note: This painting may be a copy of one made by
Hokusai Katsushika (1760-1849), who was one
of Japan's most outstanding Ukiyo-e artists.
No date given for painting at below web site.
Photo Source: http://www1.odn.ne.jp/muraoka/kappa/simabar2.htm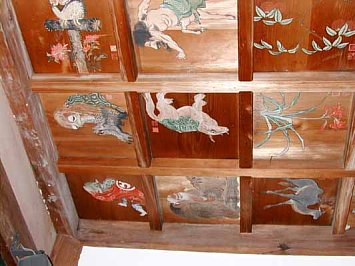 Ceiling paintings at Ganshinji Temple (see prior photo)
願心寺 (がんしんじ)本堂 (Ganshinji Temple)
Photo from: http://www1.odn.ne.jp/muraoka/kappa/simabar2.htm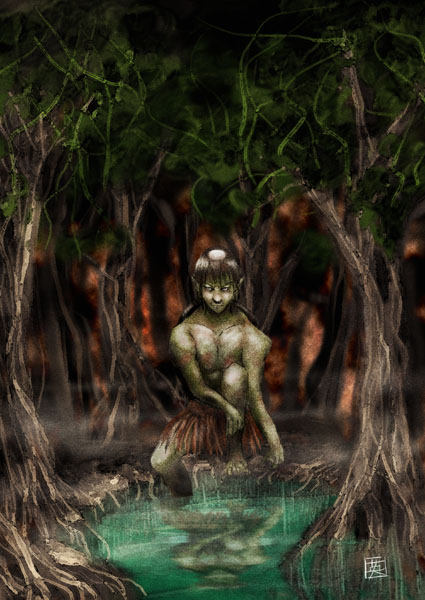 Illustration by 英 - Ran
www.asahi-net.or.jp/~dp8h-izn/gallery.html
Cover Artwork for Cygnet 11, a modern Japanese science fiction
magazine. Published by アルビレオ Albireo, which is named after
Albireo, a star in the constellation of Cygnus. Cygnet is a play
on the word Cygnus. Magazine now at Number 15.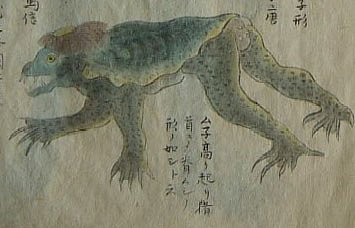 Kappa Painting (1836 AD)
A drawing of a kappa which was reported to
have been caught in a net on Mito East beach in 1801.
Photo from: en.wikipedia.org/wiki/Kappa_(Japanese_folklore)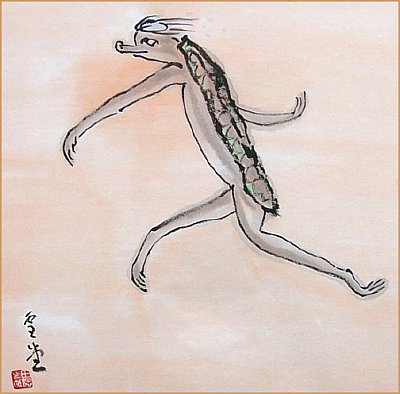 Kappa, from a Paper Latern
2005 Bonbori, Tsurugaoka Hachimangu Shrine, Kamakura, Japan
For a photo tour of many laterns (bonbori), click here.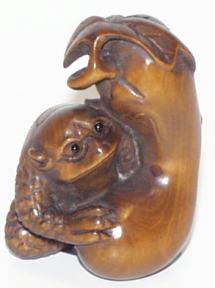 Kappa and Eggplant Netsuke
Photo from: www.bymichelle.com/impeggplant.html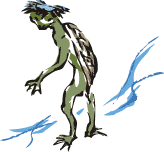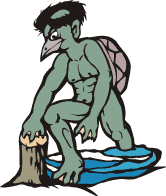 Kappa Clipart
Courtesy: http://www6.plala.or.jp/ebisunosato/kappa.htm
Other clipart at: http://www6.plala.or.jp/ebisunosato/mukasiba.htm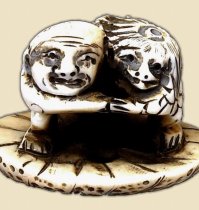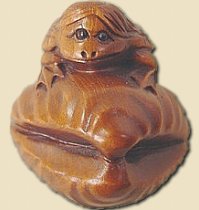 LEFT: Kappa and Monk Wrestling (Japanese Ivory Netsuke)
Courtesy of www.2ezr.com

RIGHT: Kappa Netsuke, circa 1920 to 1940
Courtesy www.fareastasianart.com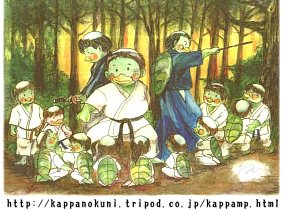 Modern-day drawing of Kappa society from book for children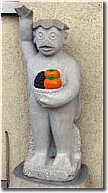 Stone statues near Tanukimachi Station
In modern times, the Kappa often appear as cartoon characters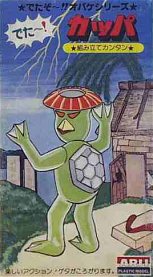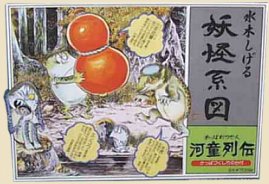 www.gasolinealleyantiques.com/kits/kitmisc.htm
LEFT: Kappa Obake, Figure Kit from "Detazo Obake Series"
RIGHT: Kappa Red Shaker. Specter Genealogy Series #1. 1994.
Later drawn by famous Japanese manga artist Shigeru Mizuki.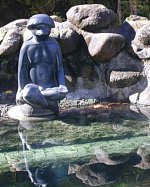 Yagen Valley, Shimokita Peninsula, Tohoku, Japan
Photos by Jani Patokallio
http://jpatokal.iki.fi/photo/travel/Japan/Tohoku/Yagen/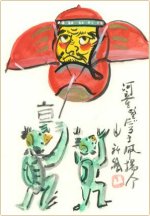 Kappa painting by artist Yoshio Yamamoto
THIS IS A SIDE PAGE
Click Here to Return
to Main Kappa Page